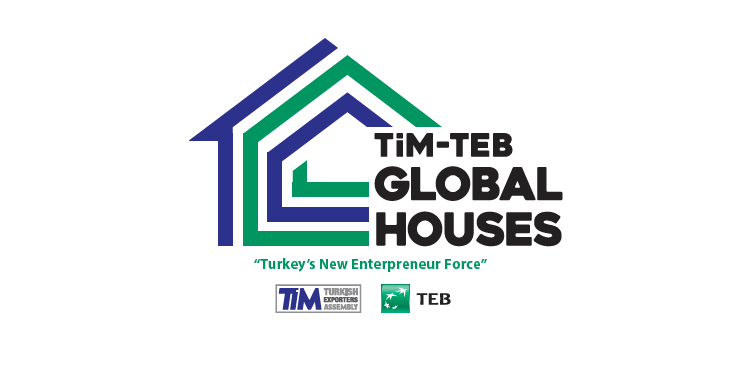 TİM TEB Global Houses are intended to encourage and strengthen local innovative entrepreneurs and startup businesses that generate high added value and have export potential. The startup business house model, which Türk Ekonomi Bankası (TEB) introduced for the first time in İstanbul in 2013, began to expand into other parts of the country when the bank joined forces with the Turkish Exporters Assembly (TİM) in 2015. Through their diligent efforts and in very little time, they reached their goal of having TİM TEB Global Houses in operation in ten of Turkey's provinces. Today these houses contribute to our country's efforts to increase its effectiveness in the areas of business startups, technology, and exports.
Besides serving new startups as incubation centers, TİM TEB Global Houses also provide the business-management services that existing technology companies may find themselves in need of. In this respect, the houses regard it as an important part of their mission to help such firms transform themselves into strong and enduring companies especially by acting as conduits for state-provided support. The TİM TEB Global House model is also constantly being improved through consultancy services and training programs that best address our country's needs. Originally the houses offered just three types of such programs; today the number is eleven offering services that respond to the needs of audiences ranging from newly-formed startups to big technology-product exporters.
Entrepreneurs know that a TİM TEB Global House can give them the most effective access to whatever support they may need in such matters as financing, accessing government grants and support, starting and developing an export oriented business, presenting their innovative products and services on domestic and international platforms, and improving their growth potential. Through its self-created business model and strong business partners, every TİM TEB Global House has become an operational center for the mobilization of startup business potential in its locality.
Global Houses,
Discover and expand entrepreneurial potential.
Mediate effective access to state-provided support.
Support technology companies in their efforts to grow and export.
Nurture potential entrepreneurs while they're still university students.
Improve newly-established companies' chances of success.
Develop technology companies' entrepreneurial muscle.
Provide innovative products and services with access to domestic and international platforms.
Provide startup businesses and technology companies with guidance on innovative solutions to their financing requirements.
Support collaboration between entrepreneurs and the business world.
Expand the pool of potential investors and support entrepreneur/investor relationships.
Locations:
İstanbul
İzmir
Denizli
Gaziantep
Mersin
Edirne
Trabzon
Bursa
Konya
Erzurum
CLICK FOR THE DETAILED INFORMATION