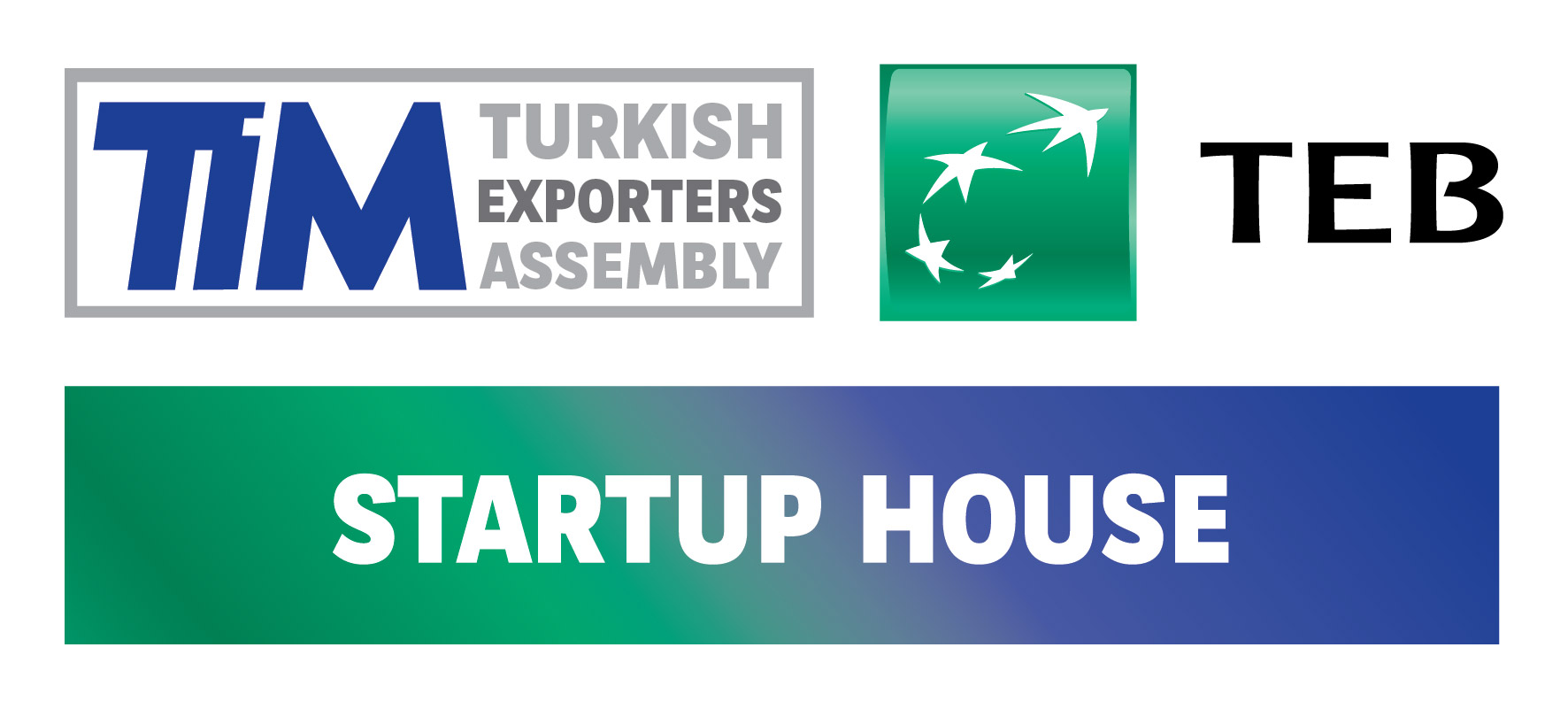 TİM-TEB Startup House
TİM-TEB StartUp House, which gives the power to build 20% of all tech startups in Türkiye, has managed to become a leading brand that offers the widest range of entrepreneurship services with a variety of innovative and sustainable programs in different cities in Türkiye.
Operating in different cities TİM-TEB Startup House contributes to the Türkiye's development struggle of export, operations, technology fields by strengthening entrepreneurships by developing comprehensive programs with innovative, high value-added and export potential entrepreneurs. Nowadays It has branches in 7 cities including İstanbul, Izmir, Ankara, Denizli, Gaziantep, Bursa, Mersin and TİM Startup House in Trabzon and Erzurum.
TİM-TEB Startup House, which is Türkiye's most comprehensive and widespread entrepreneurial family, raised more than 935 entrepreneurs in 4 years in different segments in different provinces of Türkiye. Currently, the number of their employees is 7.209 in total.
TİM-TEB Startup House offers the services as an incubation center for newly established entrepreneurs as well as the existing technology companies. TİM-TEB Startup House, which has an important mission in transforming the technology companies established with various state aids to permanent and strong companies, is continuously developing its business model with the most appropriate consultancy and training applications for the needs of our country.
TİM-TEB Start-Up House programs are designed in order to eliminate the issues of Turkish Start-Up ecosystem, which are:
The Start-Up ecosystem cannot develop in small cities due to limited resources.
While the number of entrepreneurs do increase, the number of value-added, commercialized, innovative and technological Start-Up's do not increase at the same level.
The number of Angel Investors, Investor Networks and Venture Capitalists do not meet the current need.
Government incentives and supports are not sufficiently known and used.
Trainings given by the incubation centers in the Start-Up ecosystem appeal to a standard Start-Up level.
TİM-TEB Startup House makes a major contribution to country economy in technology and export thanks to its different programs which are Türkiye's most comprehensive and extensive programs that are designed in line with the problems and needs.
TİM-TEB STARTUP HOUSE INNOVATIVE AND SUSTAINABLE PROGRAMS:
WAKE UP: 1st-2nd-3nd Grade Students of Universities to develop business ideas with design thinking techniques.
LET'S UP: Entrepreneurship Courses at Universities for 4.th Grade Students.
STEP UP: Those who want to receive TÜBİTAK Grant
START UP: Companies that have taken the first step in entrepreneurship and have 0 - $ 100,000 turnover
LEVEL UP: Companies between $ 100,000 - $ 1,000,000 turnover
Technology companies are accelerating with ''Level Up'' program
GROW UP: Companies between $ 1,000,000 – $ 10,000,000 turnover
''Grow Up'' program opens up technological firms abroad.
STRATEGIC GROWTH ANALYSIS: Firms supercharge their growth
GLOBAL UP: To build a global startups
FOLLOW UP: For the alumni who attended to one of the TİM-TEB StartUp House programs in order to follow-up their growth
TECHNO DAY: Collaboration between startups and corporates
DEMO DAY: Connects venture capital investors and business angels with startups
CONTINUOUS TRAININGS: Periodic trainings in entrepreneurship, marketing, finance, foreign trade, digital marketing and innovation are provided
ANGEL INVESTOR DEVELOPMENT TRAININGS: To increase the awareness of the angel investor concept for the businessman
EXPORTING TECHNOLOGY COMPANIES TRAININGS: Trainings within the scope of Export Development Training, Growth Management, Efficiency Management and Strategic Management.
PROCESS FLOW
TİM-TEB StartUp House programs are run in 2 periods throughout the year. Programs are determined and announced based on the capacity of the city. Effective program advertisements are carried out through online channels with the corporate communication units and partners. Also, programs are being advertised by visiting the technology companies, university communities, unions and other institutions that operate in the city.
Applications are received online. If there is any application through phone, it is directed to the online addresses and included in the pre-assessment process.
Consultants assess the applications according to the defined criteria in the pre-assessment process. Successful Start-Ups are being interviewed then the final decisions are given for the shortlisted Start-Up that are found eligible for the jury assessment step. As a result of jury interviews which is held with the participation of partner representatives, Start-Ups are carefully selected for the program.
Incubation or consultancy within the scope of acceleration is provided to each Start-Up depending on the program. Office support, technic mentorship, networks, commercial opportunities/corporate partnerships, investor relations, events and advertising support are intensively presented according to the growth needs of the Start-Up's and companies. Communication is sustained with all the companies completing the program and data such as turnover, export, investment, headcount is updated once in 3 months.
ACHIEVEMENTS:
TIM-TEB Startup House BY Numbers
| | |
| --- | --- |
| Entrepreneur Number | 935 |
| 2019 Turnover | 968 Million TL |
| Government Support | 131 Million TL |
| Investment | 340 Million TL |
| 2019 Export | 50 Million $ |
These entrepreneurs employ more than 7.200 people.
European Entrepreneurship Incentive Awards: In 2019, TİM-TEB Start-Up House achieved an international success in entrepreneurship on behalf of Türkiye and selected as the national winner. TİM-TEB Start-Up House successfully represented our country in the international arena by receiving special awards at the ceremony held in Helsinki, Finland on November 26, 2019 within the scope of the European Entrepreneurship Incentive Awards, out of 290 projects from 29 countries.
For detailed information: https://ec.europa.eu/docsroom/documents/38381
Award Ceremony: Successful entrepreneurs of TIM – TEB Startup House which was actualized by Turkish Exporters Assembly (TIM) in partnership with Turkish Economy Bank (TEB) in order to contribute to the entrepreneurship ecosystem, technological development and export volume of Türkiye, were awarded on October 11, 2018.
With the participation of 500 partners of Türkiye's entrepreneurial ecosystem, the night was held under the auspices of the Ministry of Trade of Republic of Türkiye at Çırağan Palace. After Ruhsar Pekcan, Minister of Trade of Republic of Türkiye; İsmail Gülle, TİM Chairman and Ümit Leblebici, TEB General Manager gave opening speeches, 10 successful entrepreneurs from TİM-TEB Startup House were awarded. Furthermore, as a social entrepreneur Ayşe Arman, as the inspiring entrepreneur Ali Erkin, Chairman of Game Developers Association of Türkiye and as enrichers of the ecosystem Middle East Technical University (METU) and İstanbul Technical University (ITU) received their special prizes.
Website: http://www.timlegirisim.com/
TİM-TEB Startup House Demo Video : https://www.youtube.com/watch?v=-vhX48Qsw18