Digitalizatıon Dynamics Of Turkey: Exclusivity To Centrality
With a thorough introduction of technology into our lives, traditional trading habits change and transform. In this new era of unprecedented change, the rules of economic competition are also changing. Turkey, being a privileged country of the conventional economic period with its geopolitical position and extensive workforce up to the present, wants to carry this specialty to the new age. Furthermore, this time the target is to be the predominant country.
By The Turkish Perspective
NOVEMBER 2019 ISSUE 76
Turkey, with its geographic location and young and dynamic population living in this land, the world's 17th largest economy and a G20 country that maintains its growth dynamically, and with its successful economic reforms and support programs, is a country that provides an important basis for the healthy growth of the entrepreneurial ecosystem, not only geographically, but also provides important advantages for the world entrepreneurship sector.
Turkey, with its geographic location and young and dynamic population living in this land, the world's 17th largest economy and a G20 country that maintains its growth dynamically, and with its successful economic reforms and support programs, is a country that provides an important basis for the healthy growth of the entrepreneurial ecosystem, not only geographically, but also provides important advantages for the world entrepreneurship sector.
The young population benefiting from a digitized education Turkey, supported by a young and educated demographics and a modernized economy backed by high internet penetration, is an attractive growing market for digital economy components. According to data released in 2018, half of the 82 million population is under 32 years of age in Turkey, which makes Turkey the country with the youngest population in the EU region. Turkey's young population naturally attracts attention with its digital activity. Turkey is the 9th largest market for Facebook, the 6th largest market for Instagram, the 7th largest market for Twitter and the 10th largest market for YouTube.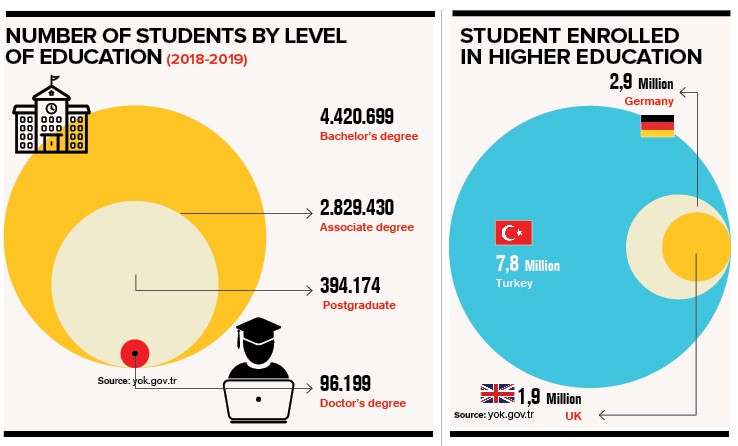 Compared with the United States and some European countries, the number of newborns reach 1.3 million per year in Turkey. This provides a productive and conducive environment for companies such as 'Ebebek' to rise and grow rapidly. (worldpopulationreview.com)
When we examine the year 2018, in which the internet usage reached to 52%, above the world average, and the mobile usage reached 98%, the increase in smartphone usage from 66% to 77% in 2019 shows how high the digital adaptation is in the country and is of great importance for investors who want to move towards e-commerce.
Alongside the payment methods such as credit card and debit card, alternative methods such as e-wallet and payment infrastructures of social media platforms for use in e-commerce is growing in Turkey.
Turkey overtook Russia and India in e-commerce
E-commerce saw a 42 percent growth in 2018 compared to the previous year and the e-commerce market reached TL 59.9 billion. The size of the Turkish information technology sector has almost doubled since 2014, with an annual average growth rate of 17% and has reached a total of TRY 131.7 billion. While in 2014, e-retail sales constituted 2,4 percent of all retail sales in Turkey, this rate reached 5.3 percent in 2018. This rate was 5.9 percent in developing countries and 11.1 percent in developed countries in 2018. Along with this change, as of 2018, Turkey is located above Russia and India in this ranking. (tubisad.org)
Game export worth USD 1 billion
Looking at the rapid popularization of the game industry in Turkey, while the number of players reached 30 million, according to 2018 data released by the Ministry of Trade, the export volume has exceeded USD 1 billion. Turkey, with over 500 small and medium-sized game studios, has the highest number of game studios in Eastern Europe, Middle East and Africa. (NETMARBLE)
In the hyper casual area, which has recently been on the rise, Turkey attracts attention with the intensity of its developers and publishers. In September, 5 of the top 15 most downloaded games in America were served by Turkish developers and publishers. The global publishers, who are aware of this situation, are trying aggressively to open offices in Turkey. With all these developments; starting with Joygame and continuing with Peak, Gram and Masomo, the output of large enterprises from Turkey is expected to continue accelerating.
The ideal market for start-ups to globalize
It can be said that one of the most important factors in the gradual increase of technology ventures in Turkey is having a larger educated population than most European and Middle Eastern countries. When examined across Turkey, with 207 students enrolled in associate degree programs in the year 2018 to 2019, almost 7.75 million students enrolled in third-level education.
In Turkey, about 95,000 of the 900,000 expected graduates in 2019, which is more than 10%, are graduate from the engineering department and 23,000 people graduate from computer/software related departments. The number of engineers graduated in Germany is around 75,000, while in the United Kingdom this number is 37,630. Given these figures, for the emergence and expansion of initiatives in sectors such as educational technologies and games, Turkey presents itself as an ideal market for growth. (hesa.ac.uk & destatis.de)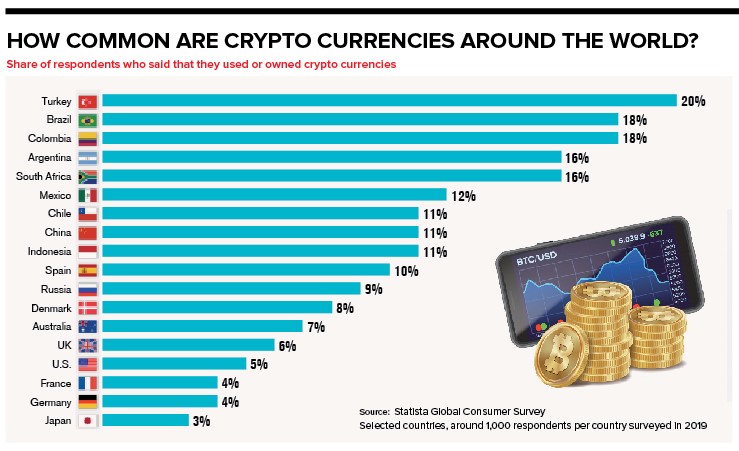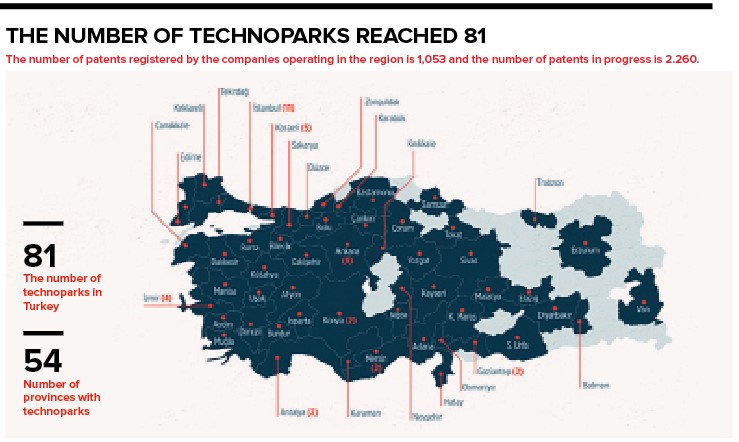 Pioneer in Crypto Currency
Examining the development of impactful crypto sector in recent years in the world, Turkey seems to have left behind many countries with the amount of its population who use crypto currency. According to the research results covering 13 countries in Europe, the USA and Australia, done by Statista, 70 percent of the population of Turkey is familiar with crypto currency, making Turkey a huge market for crypto currency ventures. This number is 66 percent in Europe.
According to the survey, the ratio of those who have money crypto is quite high in Turkey, one in five people (20 percent) have Bitcoin or a different crypto currency. This rate is 9 percent in Europe, 7 percent in Australia and 8 percent in the USA. With the advantage of geographical location and fund of knowledge about crypto money and blockchain, Turkey's potential to become the rising epicenter of blockchain technology is grabbing attention. The recent events such as Eurasia Blockchain Summit and Blockchain Economy ‹stanbul have become an attractive meeting place for thousands of people from America, Asia, the Middle East and Europe.
Transition to Blockchain in public and private enterprises
The Blockchain Turkey Platform founded under the leadership of Turkey Informatics Foundation (TBV) in order to increase awareness and use of Blockchain started working with the support of organizations from different sectors in Turkey with the goal of creating a powerful blockchain ecosystem. In addition to the trainings and activities organized and various informative publications and content, the platform has started to sign important collaborations with science, industry and technology academies, think tanks, universities, blockchain platforms of other countries and associations.
In addition to many large institutions and organizations that have started to work on blockchain technology, institutions such as Borsa ‹stanbul, Takasbank, Undersecretariat of Treasury and Central Bank of the Republic of Turkey (TCMB) announced that this issue was followed closely and supported.
Technology Entrepreneurship & Investment Environment
Formation of Technoparks, that serve as a bridge between universities and the private sector and help commercialize the research and help facilitate the joint projects between the academic world and private companies, started in 2001 and developed rapidly in Turkey. According to a report published by the Turkey Investment Office, the number of Technoparks in Turkey has reached 81 in 54 cities.
In Techoparks, which provide many advantages to the enterprises during the establishment phase, 5334 enterprises employ 51.574 people in total, the number of patents registered by the companies operating in the region is 1,053 and the number of patents in progress is 2.260. Total endorsement of these companies increased by 23.1% compared to the previous year (2018) and reached TRY 16 billion and total export volume increased by 31 percent, compared to the previous year, to TRY 3.8 billion.
While 37 percent of companies operate in software sector, 17 percent operate in computer and communication technologies sector, 8 percent operate in electronics and 6 percent operate in machinery and equipment manufacturing, which take part in the Technology Development Zones, companies from many sectors such as medical, energy, chemistry, food, defense, automotive are also conducting research and development activities in these regions.
Turkey is on the radar of venture funding companies
Considering the educated population in Turkey, the technological research and development, venture centers and the growing ecosystem figures, it appears that the technology entrepreneurship will rapidly develop and become a hub where the number of projects that will achieve global success will increase gradually. In fact, realizing the potential in Turkey, Sequoia Capital, Wamda Capital and Tiger Global, as foreign investors, have confirmed it by investing in the market of Turkey.
Entrepreneurship ecosystem, which has been improved through supportive reforms provided by the state, is swiftly advancing towards maturation. The major state-sponsored institutions that incessantly support the entrepreneurs and investors in Turkey are: Small and Medium Industry Development Organization (KOSGEB) and the Ministry of Treasury and Finance of the Republic of Turkey.
Although, the fact that some Venture Capital companies approached the end of their funding periods as of 2018 and this caused investments to decrease compared to the previous year, with the new and larger funds established by these Venture Capital companies, newcomers to the ecosystem in 2019 and the Tech-InvesTR program initiated by the Ministry of Treasury and Finance of the Republic of Turkey, an increase in investment values is expected by 2020. As of 2019, 471 informal investors, 163 corporate venture capitals, investment centers and more than 50 acceleration centers actively support the entrepreneurial ecosystem.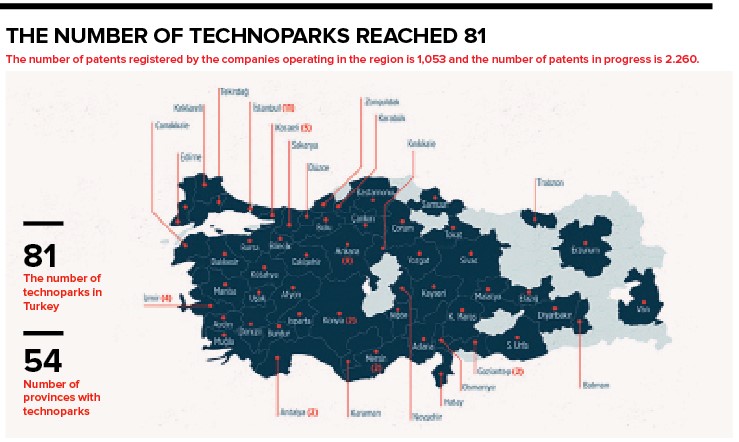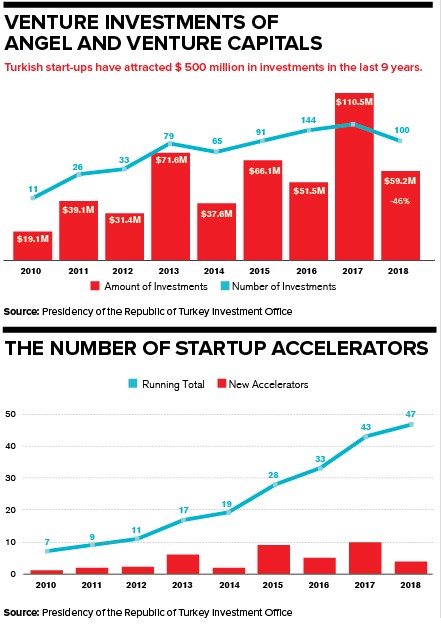 Mass demand for technology and entrepreneurship activities
Every year in Turkey, global-scale activities are organized for those who wish to closely follow prominent speakers, entrepreneurs and investors. In 2019, as in previous years, nearly 30 large-scale technology events and conferences entertained thousands of entrepreneurs, investors and experts from Turkey and around the world. It is possible to come across small-scale trainings, conferences and events held specially for the fields of technology such as blockchain, artificial intelligence, IoT and new media in dozens of different places in Turkey.
If we talk about the number of people affected by some important activities and the impact of these activities, this year, the number of applications for Startup Turkey, where 100 initiatives from 65 countries came together, reached 130,000. In the annual Big Bang Start-Up Challenge, a total investment of TRY 21 million was made in the enterprises in 2018. While the 7th year of the Innovation Week, entertaining 20 thousand 800 people on the first day, reached the highest number of participants with about 40 thousand participants, Teknofest, which hosted 1 million 720 thousand people this year with record breaking participation, has become the world's largest aviation, space and technology festival.
In light of all these developments, Turkey will continue to be a center of attraction with its demographic, economic and rational advantages and opportunities in the new era of the changing and transforming world and will be the center and catalyst for many initiatives that will mark the near future. A growing amount of entrepreneurial companies, pool of funds, government support and infrastructure offer opportunities for Turkey to prove its true potential. Global companies that become aware of this unique ecosystem are becoming, and will continue to become, a part of this ecosystem.
Hummingbird Ventures
---
7 Startups, 11 deals, 1 exit
Tiger Global
---
3 startups, 9 deals, 2 exits
Wamba Capital
---
5 startups, 7 deals
Middle East Venture Partners
---
3 startups, 6 deals
Beenos
---
3 startups, 4 deals
Endeavor Catalyst
---
4 startups, 4 deals
According to the research results covering 13 countries in Europe, the USA and Australia, done by Statista, 70 percent of the population of Turkey is familiar with crypto currency, making Turkey a huge market for crypto currency ventures.
In Technoparks, which provide many advantages to the enterprises during the establishment phase, 5,334 enterprises employ 51,574 people in total.
"

THERE IS A CRAZY POTENTIAL IN TURKEY. I WANT TO EXAGGERATE, BUT I CAN'T. THAT'S THE TRUTH."
One of the Turkey's most important investment fund managers, Barış Özistek commentated on Turkey's venture and investment ecosystem for The Turkish Perspective readers.
The Turkish Perspective: Let's start with the Bo€aziçi Ventures. How did the story of the company begin?
Bar›fl Özistek: Bo€aziçi Ventures is a venture capital firm founded by technology entrepreneurs. I am a mechanical engineer. We are technology entrepreneurs, not investment bankers. We have competently sold two technology companies before. One of them was a payment systems company sold to a Malaysian company. We had two brands; Game Sultan and PaytoGo. We sold these two to Money Online. On the other hand, we also sold our game company JoyGame to NetMarble. Thereby, we have two successful boomers with similar stories, both established in Turkey, and then grew up in the Middle East and North Africa. Then the sales took place. Subsequently, we established the Bo€aziçi Ventures with 3 founding partners and our partnership structure expanded with the acquisition of new partners. The reason for this is that; when we talk about mutual fund, you need to take care of every company you invest, take part in the board of directors and give it mentorship. So, the more you build a strong partnership, the more support you can give. The amount of direction you can give to the company depends on your partnership structure, so I can say that we have grown step by step because there is safety in numbers. For example, I know the Asia very well, while the other partner knows the West. While I know the gaming industry, one of us knows financial technology and the other one knows artificial intelligence. It is a collective transaction of know-how. We made these sales in 2013 and 2015 and established Bo€aziçi Ventures in 2015.
Not even five years has passed, but it has been very reputable.
Our first fund was a friends and family fund, we also made investments. During this period, I also had a starters-up experience. Turkey's largest venture accelerator center. I took part in its foundation, and I am still on the board of directors. That firm is making very early stage investments and as already seen, as all partners, we have been involved in a total of nearly 100 investments in 5 years.
I suggest that, in the light of this, there is a crazy potential in Turkey. I want to exaggerate, but I can't, that's the truth. In Turkey, there is a terrific potential that is not appraised. We said, let us focus on our existing investments, or seize this financial opportunity in Turkey as well as also benefit the country. So, we decided to set up a new fund, the BB Growth Fund came into being in this manner. The reason we set up this BB Growth fund is our desire and ambition to invest in good tech entrepreneurs.
Now that you've set up the BB Growth Fund to touch all of this great entrepreneurial potential, 'the octopus must have very long legs.'
Exactly. Financially, they need to be even bigger. There should be more resources, not limited resources. The team needs to be bigger. So, let us establish a fund worth TRY 300 million, and with the entirety of this fund, let us invest in technology initiatives which are in a stage of growth. By the stage of growth, I mean that they have passed the idea stage, have implemented the idea they dreamed, have a product we can touch, proving that the business model of the product is working and formed up a team. We do not have expectations like making super turnovers or being profitable. We think there is a terrific need of funding there. Today, if we come together with an entrepreneurial team and have a good idea, we can prepare a presentation and easily get an angel investment. In Turkey, there is no difficulty in finding it. If a team in Turkey says, "I'm looking for USD 50,000", and it cannot find the funding, that team is not a good team. There are more than enough angel investors in this area in Turkey. Some do it emotionally, saying "let us help these kids." while some others say, "let us have a small stake in two or three companies, maybe it will work". Thus, the bottom of the pyramid is robust in Turkey. So, what's on the bottom of the pyramid? Lots of entrepreneurs, talented team, ideas, investors. But when we go up one level, there is a tremendous need in that area of our focus. It's an area like this; For example, one application has been implemented and marketing is needed to grow it. We need to make it more popular and we need development. At that point, an average capital of USD 200-300 thousand is required. When the start-up says, "I am looking for USD 200-500 thousand investment", that business turns out to be not on the scope of angel investors. When you say, "invest me USD 300 thousand " to the investor you take USD 25-30 thousand from, they say "what the hell is going on", and they are right. The angel investor should never invest USD 500 thousand in a company. He or she should divide that amount into 10 companies. In doing so, the angel investor puts his or her money and exertion into that company but when the company's need goes up to USD 500 thousand, this topic exceeds the involvement of angel investors. After that, it is now entering the limit of funds. Venture capital funds are the addressee of this level of need. Because this place is too small for strategic partners. Let's say that you have a financial technology start-up. When you go to a bank, the bank cannot invest in you. In order to invest, the bank will require a financial audit and legal audit. There will be a lot of procedures. Start-up does not have the power to meet those requirements. The start-up is looking for a very large amount of money for the angel investor and a very small amount money for the strategic investor. Turkey's biggest shortcoming is this range of funding. For this reason, we established BB Growth. We think that this is Turkey's largest need. This is the story of BB Growth.

And you established it to fund only the Turkish entrepreneurs.
Yes, we only invest in companies that are established in Turkey. In no way do we invest outside Turkey. But our request of the company is that they will be based in Turkey, they will produce the technological process in Turkey, but will be commercializing their products and services to abroad. We do not invest in companies focused in the market of Turkey.
Well, what if a young Indian is to establish a company in Turkey with his or her friends?
There is no problem, as long as the companies are established in Turkey. We are investing in their joint-stock companies established in Turkey. There is also a patriotic side (laughs). Jokes aside, being in Turkey is an opportunity in this regard. While technology production seems to be something that can be done all over the world, it isn't. Because when the business is successful, there is a need for a qualified workforce, as production needs to be further advanced. In 80-90 percent of business processes, you are not looking for a Professor to hire. You are looking for 10 developers and for 20 designers. So, you need a qualified workforce and it is much easier to have a qualified workforce in Turkey and it is economical. Doing this in the UK is much more costly. You need 5 times the investment.
So, in cost terms, who are the rivals of Turkey?
Poland can be called our main competitor. Sometimes numbers are not the only matter. Germany's figures on skilled labor are similar to the figures of Turkey. But there is a tremendous difference between the salary received by an engineer who graduated from a university in Germany, and the number of companies looking to hire engineers. Imagine having a total of 1 million engineers on both sides. The number of engineers interested in start-ups on both sides is a critical point. On the other hand, for start-ups, there was an opportunity: In Germany or Japan, that engineer sometimes has the opportunity to become an entrepreneur, sometimes comes the opportunity to get a job and get paid. And they mostly prefer the opportunity to get into that job. In Turkey, they are mainly inclined to entrepreneurship. In fact, a reverse situation occurs here. this is an important matter against the big companies. For example, Turkey is growing incredibly fast in the gaming industry.

In 2018, 1 billion dollars of games were exported.
Yeah, but there's something else. There are currently over 500 game studios in Turkey. And there are no rivals close to us in all this region.
Do we love games, what is the reason for this?
You're developing a game. Let's say you put it in a store and this game earns USD 10 thousand per month. In the United Kingdom, the entrepreneur who makes USD 10 thousand in income would collapse. In Turkey, they are in high spirits. Together with a team of 3 people, this means USD 10 thousand for the equivalent of TRY 20 thousand per capita. This comparison is the same whether it is with Germany, Japan or Korea.
Then we can easily say: Turkey is, with a population of 80 million, with the skilled work force and a very active entrepreneurial potential, not only in this region, but one of the world's most important countries. Therefore, it has many advantages for investment and to produce technology.
Let me interrupt and talk about another advantage. Do not just understand it as labor cost advantage. When you first introduce the technology product to the market, the product is never perfect. 8 to 10 interactions are needed to make the product perfect. There are many processes like this. That means, let's talk about a simple mobile application, you first appear in your own market. For the application to be perfect, users must first use the application. You need to collect feedback from the users. Then another interaction, another interaction... Until it comes to a perfect state. Look at the big technology companies in the world, 95% of them have a common feature; the market in which they are born is very large. Parallel to this, they have grown up, perfected their products, and then went global. For example, Facebook did not enter the Japanese market on the day it was opened. After Facebook became well-known, it entered the Japanese market, entered the Asian market. Facebook, Google, Amazon... It's no surprise that these companies emerged from the USA. Not because it is America; their market is large, their qualified workforce is greater, they can quickly buy and polish the product with meaningful marketing costs in the market, they can optimize the product, then they enter the foreign markets
In this sense, we can say that Turkey shows similarities with America.
Not only in America but look at China for example. Look at AliBaba, established in China, look at TikTok. The same pattern. In China, there are resources to produce this technology, on top of that the market is huge. They can optimize the product very quickly. Tiktok was first established in China, then stepped into other countries. I call it the Hometown rule. The Hometown rule should be working. It is very, very difficult to create a technology product where there is no Hometown rule. An opposite example is Israel. Why can't Israel do this? Because there's over-funding. I am not saying enough; I am saying overly large. Remove this oversized funding. There are no other examples of this.
The thing that sticks to my mind is; How does this qualified labor come into being in Turkey? What is the source of this interest in technology of Turkish people? What is the role of Turkish universities in this interest?
First, perhaps there are very few Turkish universities among the top 500 universities, but in the rest of the ranking, there are too many. For example, private universities. We have very good private universities. I'm not saying super, but they give a good education. We have a training system that responds to what we need. Because, what we need is not to educate a very small population very well, it is to educate a large population well. Therefore, our education system meets this need. Second, let's not forget that the Turks are entrepreneurs. Throughout history this has settled as a habit. You open 1 jeweler and 10 more jewelers open business next to it.
Correct, we set up the bazaar.
So, where does this work? Entrepreneur society learns technology from the Internet, by watching videos. Let's not just get stuck with university topic. Because the Turks are entrepreneurs, and so to speak, a competent society.
So, like a guerilla…
Yeah, like a guerrilla. Instead of sitting at home and watching television, the person who gets the video training succeeds. Therefore, human resources are constantly increasing as our entrepreneurial minds make use of those resources. We sponsored a TV show last year. 14-15 years old children developed and offered us a lot of games. while on air, we asked them how they did it. They replied that they learned this by watching a couple of videos.
Do you have any obstacles in the development of the technology investment environment in Turkey? At which points do you experience the greatest difficulty?
Let's say we will build a USD 50 million fund. It takes 6 months in any country. But it takes longer here. Because the appetite of domestic investors is much lower. That's why foreign investors should come here. Funds offer great opportunity to foreign investors. For example, you are a foreigner investor, there are many opportunities in Turkey for you, it's true. Any investor can already understand the situation in a half-hour meeting. But investors will come to Turkey from Japan. Which technology initiative will they find? How will they manage it?
And a competitive environment needs to be created too.
Exactly. So, we need to make a very good publicity right now. We need to talk about these opportunities without stopping. For example, the Investment Office does this job quite well. We went to Singapore together, they made presentations. We told them, they listened. they told us, we listened. These works from every channel should continue. The private sector should also tell these. The presidency should also work about this. Investment Office should continue at the same pace. The Silicon Valley is one of the first 5 things that comes to mind when we think about America today. What comes to mind when you think of Turkey? Cappadocia, Istanbul and tourism. This is a good source for Turkey, but if tourism comes first to our minds, secondly, technology should come to our minds so that the funds can flow in.
The importance of Turkey's geographical position has been described to us for years. When I entered the world of technology, I questioned the importance of this situation. Eventually we entered the age of technology and thought that this privilege lost its importance. This was my sincere opinion 10 years ago. My opinion today has changed completely. The geographical position, no matter how important it was during the Ottoman Empire, is equally important today. I realized this when we sold the game company I just mentioned to NetMarble. After this sale, Turkey has become a center of EMEA. I understood how important Turkish Airlines and Turkey's geographical location is, in this way. Because a flight to London from Istanbul is 4.5 hours and to Dubai is 4.5 hours. The EMEA region can only be managed from ‹stanbul. Because there's an hour difference. When it comes to technology, machines are not the only thing that works. There is customer support and social media management. You must have different language skills. For example, you can make social media management from Turkey to both England and the Middle East. Doing it from France or Spain is very difficult. You need to get everyone on the night shift. In this regard, Turkey is important. For example, dozens of technology events are being held in Turkey. If it wasn't for the economic conjuncture, there would be ten times more of these kinds of events. Because here is a very privileged meeting point. There is such a thing in the world of technology, people come from all over the world building networks in this sense, Istanbul is very valuable. People come from different countries, they are thinking 'Let me do 2 days of technological activity, do 2 days of sightseeing, I will combine these events with the weekend.' There are direct flies to Istanbul from everywhere. The importance of Turkish Airlines comes into play here. If you make a technology event today, would you make it in Turkey, or Poland? Who can go to Poland and how? There's nothing as difficult as a Korean going to an event in Poland. For example, a game fair is organized in Cologne, many people I know have to make transfers during the transportation. When I say that I come from Istanbul to Cologne with a direct flight, this makes people go like 'wow'. For an asian, going to Cologne is a 20-hour journey. On the other hand, to put an end to Turkey's Daylight-Saving Time also provided an interesting benefit. Because we're now closer to Asia about an hour. This is critical. It is not a major inconvenience that we have reduced our working time with Europe for 1 hour. For example, there is a very important difference between the fact that our working hours with Luxembourg have decreased from 8 to 7 and that from Asia has increased from 3 to 4. this means 33 percent increase in our working time with Asia. I work with Korea very often. There is a clear improvement in efficiency. Currently, 60 percent of the digital ecosystem is made up by Asia. Asia is the direction we should turn our faces. When Atatürk said, "Let's turn our faces to the West", he meant to turn to modernism. In this sense, in terms of those who want to work with Asia, Istanbul and Turkey are very attractive.
There is a saying that 'Geography is destiny'; In this sense, we can say that Turkey has a lucky fate.
In fact, as work culture, Turkey is very close to Asia; Europe is far away. Whether you are a large-scale company or a technology start-up in France today, you cannot work 37 hours if the official working hours are 36 hours per week. That's their working culture. In Asia's working culture, no one can go home unless the work is finished. In this way, they have become very successful in technology. The important thing is to achieve the goal. Turkey's work culture is in the middle of these two. We can't say that we work as much as Asians, but we don't have a culture like a western European country, "that's my working hours" or "you can't email me on holidays". Therefore, we are able to work with both Asians and Europeans easily.
When it comes to Asia, I think it's necessary to put a separate parenthesis on the importance of the population. When Asian companies employ two shifts, day and night, it is clear that the unemployment rates of countries with a population of 1 billion get very low on their own scale. With this method, they create employment and increase production. So, as long as you support production, you need the workforce. With the double shift system, it is possible to reduce the unemployment rate to very low levels. Turkey also has such an opportunity. When we consider the advantages of Turkey that you have mentioned, the following question comes to mind: When will a unicorn emerge from Turkey? I mean there's flour, sugar, fat; then why don't we have halva?
It's simple, because the funding is low. Turkey's best technology companies were sold for a very good amount of money. For example, we sold two companies in 2013 and 2015, and sold them for good amounts of money. But if there was an abundance of funds in Turkey, perhaps rather than selling them, we were going to take an investment and challenge the giant companies of the world. For example, last year Trendyol was sold to AliBaba. It was sold to for very good figure. But maybe if there was an abundance of funds, instead of selling that company to AliBaba, it would play to be the AliBaba of this region. Anyway, it was so close to being unicorn. Let alone being a unicorn, it could have reached the value of USD 10 billion.
How many unicorns do you think will emerge from Turkey in 5 years?
Within 5 years, probably 10 unicorns will emerge from Turkey. Look, Turkey's export target was USD 1 billion in IT export for 2023. I said that during the IT Strategy in 2015, "In 2023, the game sector alone will make USD 1 billion". In fact, this figure became a reality in 2018. Again in 2023, at least 10 unicorns will emerge from Turkey, I say.
So, given that you are one of the first
actors of the new economy, do you have an influence in the policies of the decision makers in administrative terms?
The private sector is often consulted by the community. When they ask for opinions in many areas, we share our ideas.
Do your ideas ever come to life?
They do come to life. Maybe not fast enough, but I'd say we have close contact. For example, in Korea, the state has determined areas such as biotechnology and biochemistry for new generation technologies. The state says to the companies, "If you set up a fund and you put in USD 50 million, I will put in USD 50 million to get USD 100 million." The state does not put money in real estate or investment funds, it puts money into biotechnology. This is one of the things that accelerates Korea incredibly. There are currently 800 funds and 127 venture capital companies in Korea, and they have the 5th largest fund size in the world. This is a simple tactic they have been practicing for years. We were giving the public opinion in this direction, and finally, this took place this year in Turkey. This is the process Treasury approved and will be an investor. Of course, we're at the beginning. But we can look positively forward. Currently 5 funds have been approved, these 5 funds will be implemented. There's a long way to go, but I'd say we're on the right track.
Barış Özistek, the Chairman of both venture capital fund Boğaziçi Ventures and game publication company Netmarble EMEA
"In Turkey, there is a terrific potential that is not appraised."
"There are lots of entrepreneurs, talented teams, ideas, investors in Turkey. But when we go up one level, there is a tremendous need in that area of our focus. For this reason, we established BB Growth."
"It is very, very difficult to create a technology product where there is no Hometown rule. An opposite example is Israel. Why can't Israel do this? Because there's over-funding."
"In terms of work culture, Turkey is very close to Asia; Europe is far away. Turkey's work culture is in the middle of these two."
"The EMEA region can only be managed from ‹stanbul. Because there's an hour difference. Also there are direct flies to Istanbul from everywhere. "