The event brought together more than 10.000 top world leaders in the field of energy, coming from industry, governments, and international organizations, as well as the media, universities and energy industry associations in İstanbul which is a bridge connecting not only East and West, but also the past and the future. Serving as the first global energy event held following the Climate Change Conference (COP21) in Paris, the World Energy Congress also focused on the effects of new technologies on corporate structures. Energy market and structure that will emerge 20-30 years from now was discussed.
SHARING FOR PEACE
The 23rd World Energy Congress in İstanbul started with full commitment to the philosophy of sharing for peace in the era of global crises. Turkey's Minister of Energy and Natural Resources Berat Albayrak made the official opening speech by underlining that the congress will not only address opportunities and cooperation in the field of energy but also contribute to regional stability. Speaking at a press conference, Minister Albayrak said, "We are going to discuss current projects and possible cooperation opportunities with participants from around the world. Conference is going to provide a very positive synergy." Underlining that the theme of the congress is "sharing for peace,"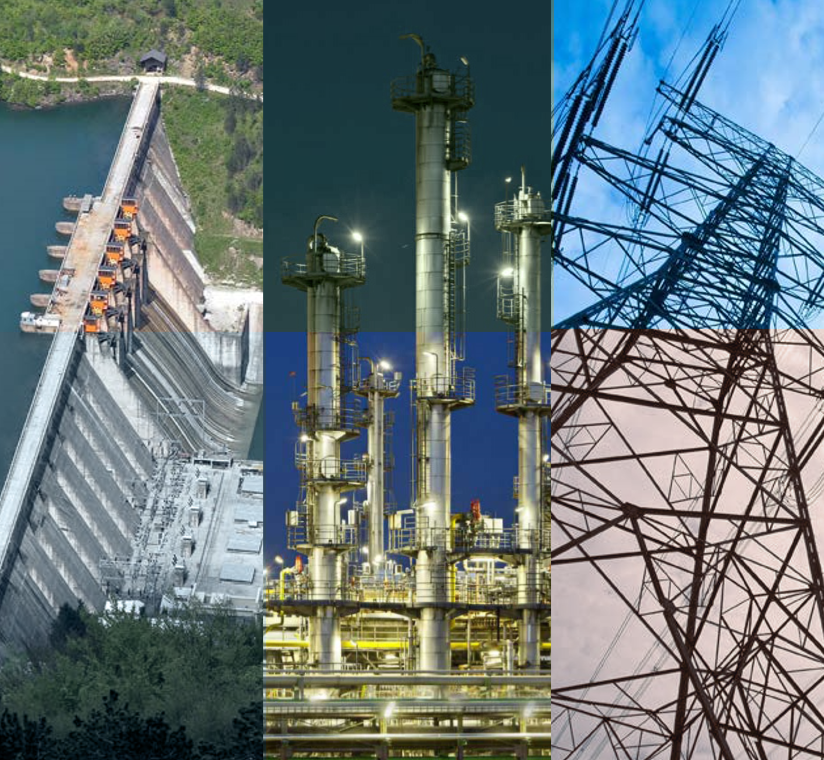 Minister Albayrak also said that global shareholders should be ready to provide significant contributions and comprehensive solutions to problems. Second day of the congress began with opening remarks by the Co-Chair, Chairman and CEO of World Energy Council, Younghoon David Kim who had also express his thanks to Turkey's President Erdoğan for his leadership and personal support for the World Energy Congress event, he also urged the energy sector leaders to embrace new frontiers. Despite the instability and insecurity not only in the region but also throughout the world caused by crises, conflicts and terror, energy remains as major component in global relations. With this respect, the World Energy Congress in which is described as an event of "World's Energy Olympics"by President Erdoğan aims to reach people worldwide with the motto of "share for peace." Continuing on by stressing that development, investment and growth cannot be established without securing energy, President Erdoğan further noted that there are 1,1 billion people throughout the world without electricity while 650 million of them are from Sub-Saharan Africa.
President Erdoğan have noted that the country is working on securing its energy demand and diversifying its energy sources. As the Turkish Stream project is designed to transfer Russian natural gas to Europe via the Black Sea and Turkey, President Erdoğan said that work on the Turkish Stream natural gas pipeline project is continuing and development of the second stage of the project will depend on natural gas market conditions in Europe. He further noted that Turkey is seeking ways to implement plans for a third nuclear power plant and aimed to produce 10 percent of its electricity from nuclear power in the years ahead. Stressing that Turkey is to take critical steps by the end of this year and throughout the year of 2017, Erdoğan said,"We establish great investments by the end of this year and in 2017. Thus, we will be closer to becoming a reliable partner in natural gas trade with all countries in our region."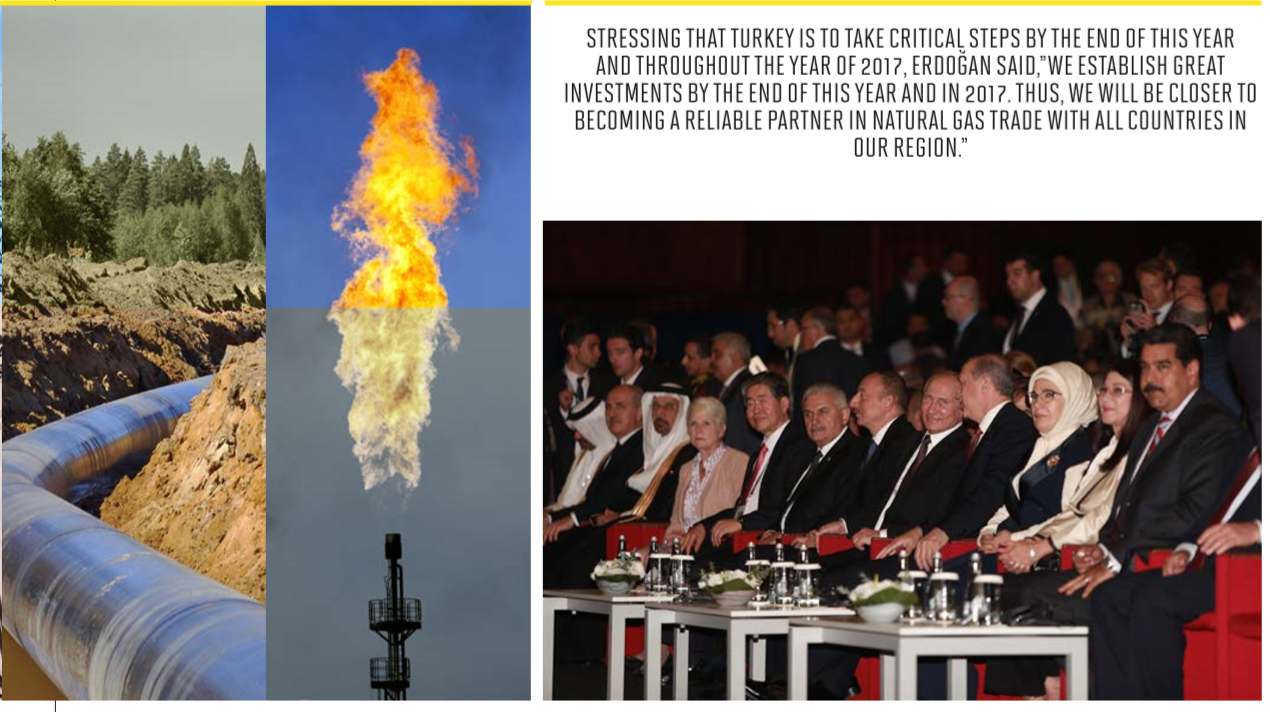 IMPORTANCE OF COOPERATION
Adding to President Erdoğan's remarks, Russian President Putin said that Russia aims to abide by the Paris Agreement and reduce CO2 emissions to focus on renewable energy. "We are moving toward clean energy and renewable energy resources but we cannot say that gas consumption is going down," he told the audience. In regards to supplying energy to the EU, Putin said, "We have been providing energy to the EU for the past 50 years and we are now working on a second project. We are discussing the Turkish Stream with Erdoğan and our other partners and we want to bring this to fruition."
Along with Putin, Azerbaijan President Aliyev vowed to continue Azerbaijan's cooperation in the field of energy with Turkey while stating that investments will reach $20 billion. While reconciliation talks on the divided Cyprus island continue, KKTC President Akıncı noted that if a possible United Cyprus Federation were established, energy security and access to energy would see a significant increase worldwide. He also added that such an establishment in Cyprus would also improve bilateral relations and cooperation between Turkey, Greece, Israel and Egypt. Also speaking at the World Energy Congress in Istanbul, Venezuelan President Nicolas Maduro urged for new mechanisms to be put into place to drive up oil prices saying, "Prices are not sustainable anymore and have fallen to their lowest levels in the last 40 years. We are seeing them fall to below the cost of production. Prices must be fairer and more realistic. For investment we need fair prices." Turkey's Prime Minister Binali Yıldırım also made striking remarks in which he underlined that security and diversification of energy supplies has undoubtedly become an issue of national security: "New actors are coming to the energy sector every day. The global energy community needs to address transformation process accordingly." The prime minister went on to say,"Countries should make sure that energy prices are not too high. Let's keep prices stable; this is a common expectation," noting that Turkey's economy is growing and becoming more dynamic: "Turkey's demand for energy is nearly three-times higher than the world average, second only to China in terms of increased accessibility to oil in the country."
A NEW PHASE BETWEEN TURKEY AND ISRAEL Using the 23rd Wold Energy Congress as an opportunity; Turkey and Israel have agreed to establish a mutual energy dialogue, further strengthening ties between the countries following a six-year pause in relations said Israeli Energy and Water Resources Minister Yuval Steinitz in his press conference. After attending the 23rd World Energy Congress in Istanbul, which marked the first ministerial-level visit since the raiding of a Turkish flotilla in international waters in 2010, Steinitz said that Turkey and Israel plan to enhance cooperation in the energy field. "Turkey and Israel will examine the feasibility of building a gas pipeline,'' he said.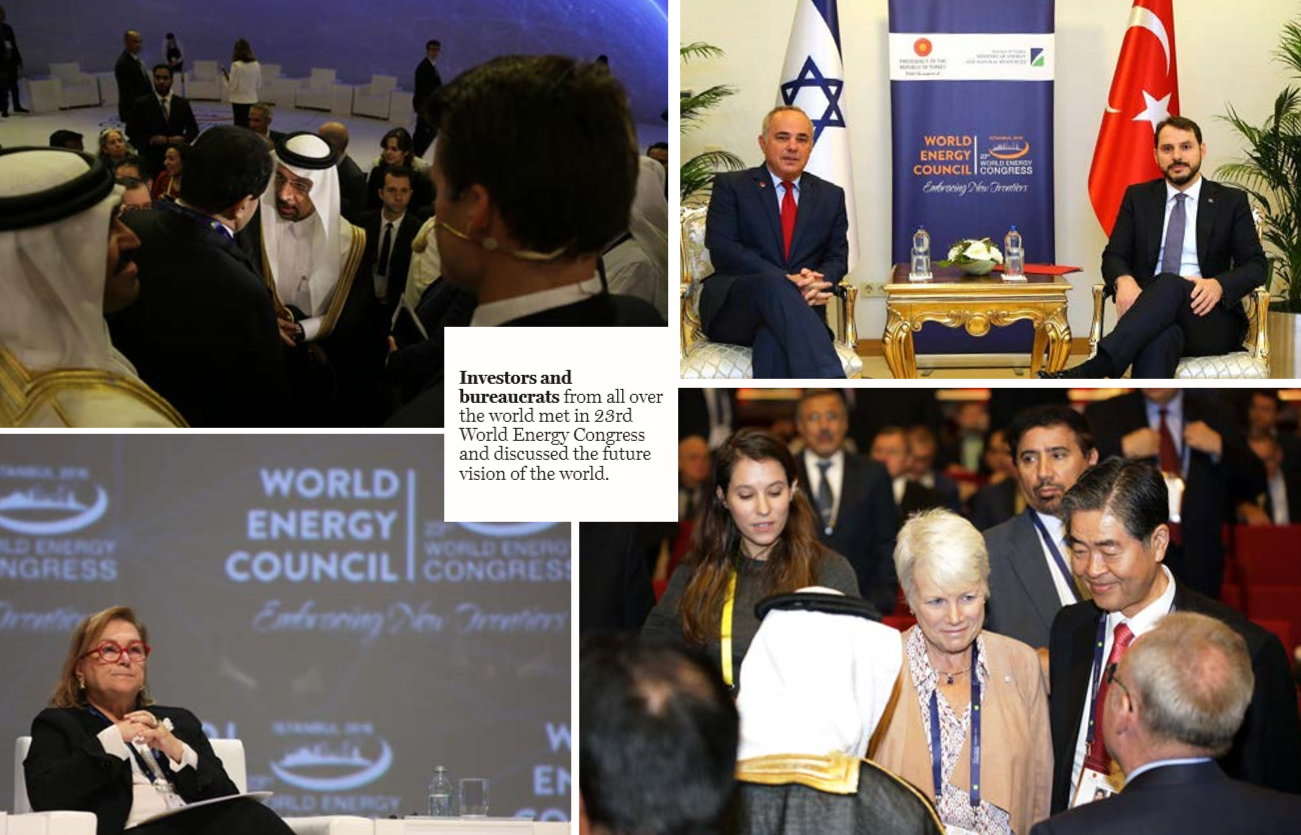 CONCRETE STEPS FOR TURKISH STREAM
Turkey and Russia signed an inter-governmental agreement on realizing the construction of the planned Turkish Stream gas pipeline to pump Russian gas under Turkish waters in the Black Sea towards Europe. The agreement was signed by Russian Energy Minister Alexander Novak and Turkish counterpart Berat Albayrak, in the presence of Russian President Vladimir Putin and Turkish President Recep Tayyip Erdoğan after their talks in İstanbul. The chief executive of Russian gas giant Gazprom, Alexei Miller, had said prior to the signing that the agreement foresees the construction of two lines of pipe on the bed of the Black Sea. The project, announced by Putin during a December 2014 visit to Turkey, will carry gas from Russia under the Black Sea to Turkish Thrace. One line, with a 15.75 billion cubic meters capacity, is expected to supply the Turkish market with a second carrying gas to Europe.